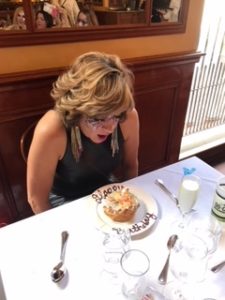 Are you ready for what life has to throw at you…are you really at peace? This month is my Birthday Month …every year I celebrate all month long and day by day I use social media to hopefully inspire, encourage, create positivity, and make people laugh as I post and share what I think will maybe touch someone in one of those ways. This Birthday Month, my 50th by the way, has been filled with so much… but above all lots of reflection.
Over the past two years as my husband embarked on a career changing journey and I found myself alone raising our kids, running my business and taking care of our life without him beside me each day, I kept thinking it was a test of our marriage. As it turns out it was really a test for me and it was to help me find out who I was. I worked so hard to find myself in ways that only years of wisdom can teach you. I bought more spiritual and self help books than I care to admit. And trust me that's incredible by itself because that's all I read and I have a library full already. I did more pilates and yoga than I have in a very long time to keep my mind straight. But all of that led me to where we are today.
Because on this 50th Birthday Month I had a lump in my breast and it was one that we didn't see on mammogram but one I manually found. We had been watching it carefully and this month it changed and it was determined that we should take it out to get a closer look.
At the moment when the decision was made…all I'm thinking is, "Who am I going to tell about this?" Not for my lack of amazing, supportive friends and family mind you but mostly because it's probably nothing.  Right? My husband is out of the country on the back end of completing another restaurant and my thoughts were…"I can't ask Jamie to come back from Aruba for a 15 minute procedure that we won't know the answer to for days. He's out of the country building one of the biggest Lucy's ever!" I don't want anyone to know because, well, there's nothing to even know yet. I'm the one who people lean on and I don't know how to lean. Having others around me worrying would make me feel like I needed to comfort them and well I didn't have the strength to do that because I was worrying enough. I was worrying about my children, my husband, my business… what would happen to all of that …if?
I convinced Jamie that it was so silly for him to come home for this one day and that his priority right now was to get Lucy's open so he could be home with me later in case this was not good news. I'm a planner you see. So for the next couple of weeks there it was reminding me that life is precious but also that I had changed in so many ways. As you get older you think about the end of your life. It's morbid but we do. But in situations like this you really think about it. During these thoughts that frankly took my breath away at times, I felt this overwhelming sense of peace. I was really going to be okay no matter what the result was because I had found myself this past year in ways that even I didn't know were possible. I had found a faith so deep that I knew whatever lay ahead for me was going to be my purpose in this chapter of my life. If it was my journey, although terrified, I was ready for it. I learned that even though my husband was over a thousand miles away in a another country he was right there by my side through it all. A friend, who I have never doubted in our life together, stepped in to be all that she is and has always been to me and quietly helped out with grace so that I could spare my family and other friends the unnecessary worry that I was trying to spare them. I was really at peace. It was the most liberating feeling you can have and I am so grateful to have found that sense of myself. The result was no malignancy and I don't take that for granted for one single second. As a former nurse and now pilates instructor who works with Post Op Breast Cancer Clients I know how blessed that I really am.
This month has been filled with celebrations one after another with some of the most amazing friends and family that I could ask for. I'm so honored to have each and every one of them in my life and through the stress of all of this during the month, unbeknownst to them, they kept me going. As I approach the final days of the "Birthday Month" what I will reflect the most on now… is life… peace… and this amazing journey that has been chosen for me. May you find your inner peace in your journey no matter how difficult or challenging it may be because that is what life is all about. May you find your true, accepting self in this lifetime because we only get one shot. And above all of that make sure you celebrate your Birthday all month long!
xoxo,
Kim