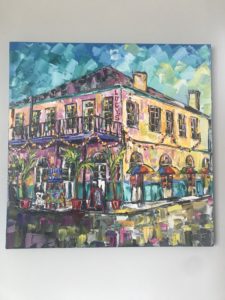 "Extra." It's what all the kids are saying these days, and to say the Munoz family summer was "extra" is no exaggeration, to say the least. The season was full of amazing highlights coupled with some "never in an a million years" moments. It's funny how one can be so certain and optimistic when guiding others through a tough time, but heeding your own advice, that's a different story. During trying times, you really get to see what people are made of, and if you remain present through it all, there's a lot to be learned.
Earlier this year, my husband Jamie began to question his role in his professional journey with Lucy. If you've followed our family over the past three years, you know that Lucy is a familiar name in our household. Jamie works in the hospitality management business, most recently with the restaurant group Lucy's Retired Surfer's Bar.
Let me stop here and first tell you a little bit about Jamie. For the greater part of his career, he's worked for family-owned businesses – Ruth's Chris and Dickie Brennan's to name a few. He holds these families in high regard because of their values and work ethic, and both are still a significant part of our lives. In his 20+ years of employment, his resume doesn't indicate the pursuit of fancy job titles or job-hopping. What it does show is someone who is completely dedicated and immersed in the position at hand. Jamie is the hardest working man I know, and I'm beyond blessed to have him in my life.
With his core values always at the forefront, Jamie began to sense that perhaps he and Lucy's business perspectives and beliefs didn't align as he once thought they did. This caused him to question what he was doing and how his career was serving himself and our family. I mean let's face it, for the past 3 years our lives were all things Lucy. She was "extra" for sure! Everything was about Lucy…what she needed, where she needed to go, how she looked, how many people liked her. She was in constant need of attention, and it was exhausting to say the least. At the end of the day, she wasn't the positive force in our family that we hoped she'd be. But how could we not have Lucy in our life? That was the question. Lucy consumed us, especially Jamie. What would life look like without her?
Ultimately, my husband braved the fear of the unknown, parted ways with Lucy, and opted to open his own hospitality company.
As for Lucy, there's no animosity or hard feelings. In fact, she's been a blessing in many ways. She brought people into our lives that not only value Jamie and his accomplishments but our family in its entirety. She opened up doors to new and exciting opportunities, allowing my husband to follow his dreams. And for that we are eternally grateful.
As I watch him grow his business and bring together the like-minded individuals who are passionate about working with him, I am beyond proud. Through his actions, our children are observing and learning the value of hard work, honesty, integrity and strength. When someone recently asked Jamie, "why" ? He simply said, "I've been blessed to work with some amazing families in my career, and it's time to build something for my own family."
So why the emotional dump? I want to share this with you all because of the tremendous amount of love and unwavering support we've been shown on this overwhelming journey. Thank you for loving Lucy with us and for giving her the attention and patronage we asked of you. Most importantly remember this…we must always have faith in where we are headed, trust in the journey that we are on, and belief in our role once we're there.
P.S. Stay tuned for the buzz surrounding his new company as they work to create diversity in brands and concepts for the restaurant and bar industry that are sure to be successful for years to come.
Keep on moving forward,
Kim