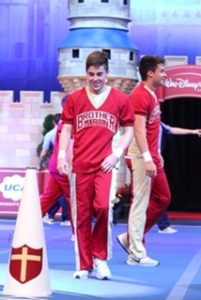 Our family is a sports family through and through. NO really, if it's not on ESPN, then it's not news, and it's not being followed. We don't miss ballgames of any sort. Every sporting season is a part of our life. Sports equipment is a permanent fixture in our home. With three boys, my husband making four, testosterone is at an all time high in this house.
And although each boy in my home has had to at one point or another, make a very tough decision about where they were going to focus all their efforts in terms of sports, one son of mine in particular has truly taught us what determination, commitment, and hard work are all about. More importantly, he has taught us that if you really want something bad enough, it does not matter what everyone else thinks, and you rise to the challenge. But above all, you pursue your passion. And, during that journey you may even change some people's perceptions.
Over the course of 27 years, I've raised three boys. Often, it can be a wild ride, but I love it! My eldest, Tyler, at the age of 27, has accomplishments both professionally and personally some don't manage to achieve until their 40s. His focus was Rugby. Yes (and ouch), but he loved it and it was his passion. He didn't make this discovery until he had exhausted nearly every sport out there, but it only took that first time to know it was the perfect fit.
In more recent years, I've been raising 16-year-old twin boys, Maxwell and Jordan. Although twins, they have their own minds and individual opinions. The courage they show on a daily basis while growing up in this crazy world we live in is truly amazing. Jordan has tried his hand at every sport as well before determining football was his passion. His decision came a little easier for him, and it was a natural progression and fit for him. He even made team captain last season which is no short accomplishment for a Sophomore.
Maxwell loves it all. He had the hardest time committing to one thing over another through the years. To our surprise, he came to us two years ago in the middle of basketball season and told us that he had been invited to Brother Martin cheer tryouts. At first Jaime and I paused and thought to ourselves, "surely he's not going to want to cheer. I mean, isn't that a chick thing?" Perhaps it was the lure of a beautiful girl that was the motivator? Caley Blue, you know we're talking about you! He came home pretty enthusiastic after tryouts and before we knew it, he was asking to join the team.
Due in great part to our ignorance and fear of what his coaches would think with regards to his other athletic commitments, we talked him out of it. Shameful, but we did. He was devastated but complied. We did tell him that if he wanted to tryout the following year, he could. We assumed it was a phase and he'd outgrow it, so this was our way of feeling better about our decision.
Maxwell has always been a determined child, and he would be no different in this situation. He committed to football AND cheer this year, and has worked his a** off to please everyone. He had football practice everyday, with games on both Fridays and Saturdays. Cheer practice followed football practice at a minimum of three days a week. His school days often spanned from 7 in the morning to 9 at night.
He's endured the ignorant comments from coaches who have clearly never lifted a person above their head with one hand, and has built the mental stamina to shrug off those who think your sex has something to do with the sport you choose. Overall, it's been nice to see the support he receives from his friends and fellow athletes.
There are a few who have unfortunately inherited the ignorance of their parents, but most, genuinely love Max, and you can see it through a simple handshake or his daily interactions. There's a level of respect for him as an athlete. It's been so much fun watching him handle it like the champ he is. He is so secure in who he is that I often wonder where in the world did this child get his confidence from? You always hope you have taught your children to stand up for themselves, to be their own person, and not let anyone stand in their way, but to see it in action has been the most gratifying experience as a parent.
In February, we attended Nationals in Disney, and for all the work that this team puts in each week they are limited to 2 minutes and 30 seconds to show the judges what they've got. Perfection isn't optional, and every team member has a role. If one person has a misstep, the entire team fails. The stress is unbelievable – I mean what other sport works all year long with their fate in the hands of less than 3 minutes on the clock. Well, they did it, and they got it, walking away with third place in the nation. I was honored to be there, and I'm honored to be a "Cheer Mom." I have never been more proud of my son for pursuing his goals and giving it his all. I cannot wait to see what these next two years have in store for you. I love you Maxwell.
Mom